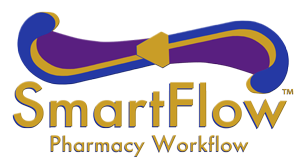 ​ IBC Research shows productivity, profitability & satisfaction gains.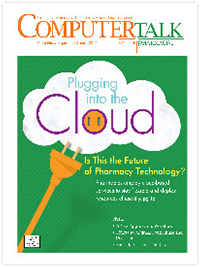 A WORTHWHILE INVESTMENT:
A NEW WAY WITH WORKFLOW
by Bruce Kneeland
Computer Talk, Sept./Oct. 2016
Mike Fapore, RPh, owns a busy Medicine Shoppe in Somerset, Pa. During the summer of 2013 Fapore realized that the number of prescriptions he and his staff were filling was making it hard for him to spend time with patients. So he decided the time had come to make some major changes.
The first thing Fapore did was shop for a robot, and shortly thereafter decided to bring in a ScriptPro unit. But, Fapore says, while looking at robots he read an article in a magazine produced by one of his buying groups. The article described how another PBA Health member had totally revamped his prescription filling process with a unique combination of specialized workstations... continue reading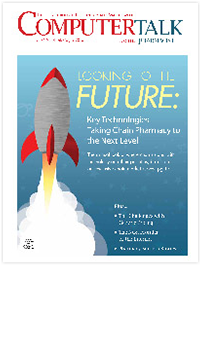 DO SOMETHING WELL, AND THRIVE
by Bruce Kneeland
Computer Talk, July/Aug. 2015
Editor's Note: This is the first of a two-part series based on interviews with pharmacy owners, managers, and industry observers who all say it is still possible for community pharmacy to thrive.
I have good news — and that is that there are ways for family-owned retail pharmacies to thrive. How can I say this? Well, I have spoken with several pharmacy owners and managers, and a few industry observers. They all say community pharmacy is alive and well and, if handled correctly, has a bright future.
Here is some of what they had to say... continue reading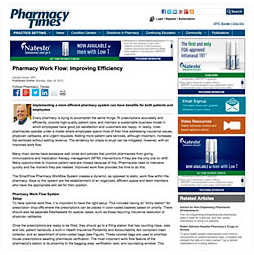 PHARMACY WORKFLOW:
IMPROVING EFFICIENCY
by Donald Grove, RPh
Pharmacy Times Online, May 2015
Every pharmacy is trying to accomplish the same things: fill prescriptions accurately and efficiently, provide high-quality patient care, and maintain a sustainable business model in which employees have good job satisfaction and customers are happy. In reality, most pharmacies operate under a model where... continue reading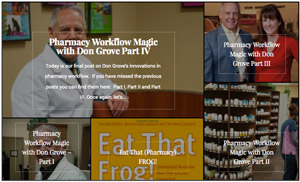 PHARMACY WORKFLOW MAGIC
WITH DON GROVE: PART I-IV
by Jason Poquette, RPh
Honest Apothecary Blog, Sept. 2014
If you look up the phrase "thinking outside the box" in any dictionary of expressions, don't be surprised to find a picture of my friend Don Grove. He is a pharmacist, pharmacy owner and entrepreneur who is literally changing the face of retail pharmacy through his innovation and "out of the box" approach to retail pharmacy workflow. And it's working... continue reading
REDESIGNING WORKFLOW:
HOW ONE PHARMACIST STREAMLINED
THE ENTIRE FILLING PROCESS
by Kirsten Hudson
Elements Magazine, Vol. 3, Iss. 3, Sept. 2014
For 10 years, Don Grove, RPh, owner of J&D Pharmacy in Warsaw, Mo., has worked to improve the traditional pharmacy workflow. After three stages of major changes, he has now finalized a patented workflow system for his pharmacy that he says improves accuracy, speed and employee satisfaction... continue reading (see page 11)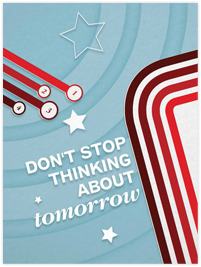 DON'T STOP THINKING ABOUT TOMORROW:
MAKING WORK FLOW THE BACKGROUND MUSIC
FOR INNOVATION
by Jennifer Jelinek, CPhT
America's Pharmacist, July 2014
"You don't seem busy!" When we hear that from visiting pharmacists, we take it as a compliment. When they learn we may have dispensed 500 prescriptions with one pharmacist, the reply is, "No way!" This mirage is a result of how we have constructed our work flow at J&D TrueCare Pharmacy, Inc. in Warsaw, Mo... continue reading
BOOK DON AS A SPEAKER ON PHARMACY WORKFLOW AND INNOVATION
SMARTFLOW DEBUTS AT THE NCPA CONVENTION, AUSTIN, TX 2014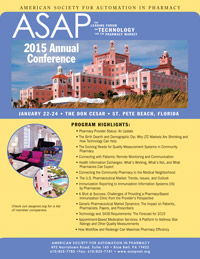 ASAP ANNUAL CONFERENCE
HOW WORKFLOW & REDESIGN CAN MAXIMIZE PHARMACY EFFICIENCY
Don Grove, RPh, Owner, J & D Pharmacy, Warsaw, MO, explains how one pharmacist can routinely verify 350 to 700 prescriptions with a maximum of 1,000+ in a 10-hour shift. Since one pharmacist is doing the work of two to three with no loss of accuracy, the owner can concentrate on patients, niches, or quality of life. Albert Einstein said "imagination is the preview of coming attractions." Don will describe his development of SmartFlow, including one-of-a-kind work stations and carousels that maximize output and decrease stress for all employees.